Nothing but the truth – the challenges of applying linguistic knowledge in the legal setting
Researcher in forensic linguistics
Forensic Science Institute, Germany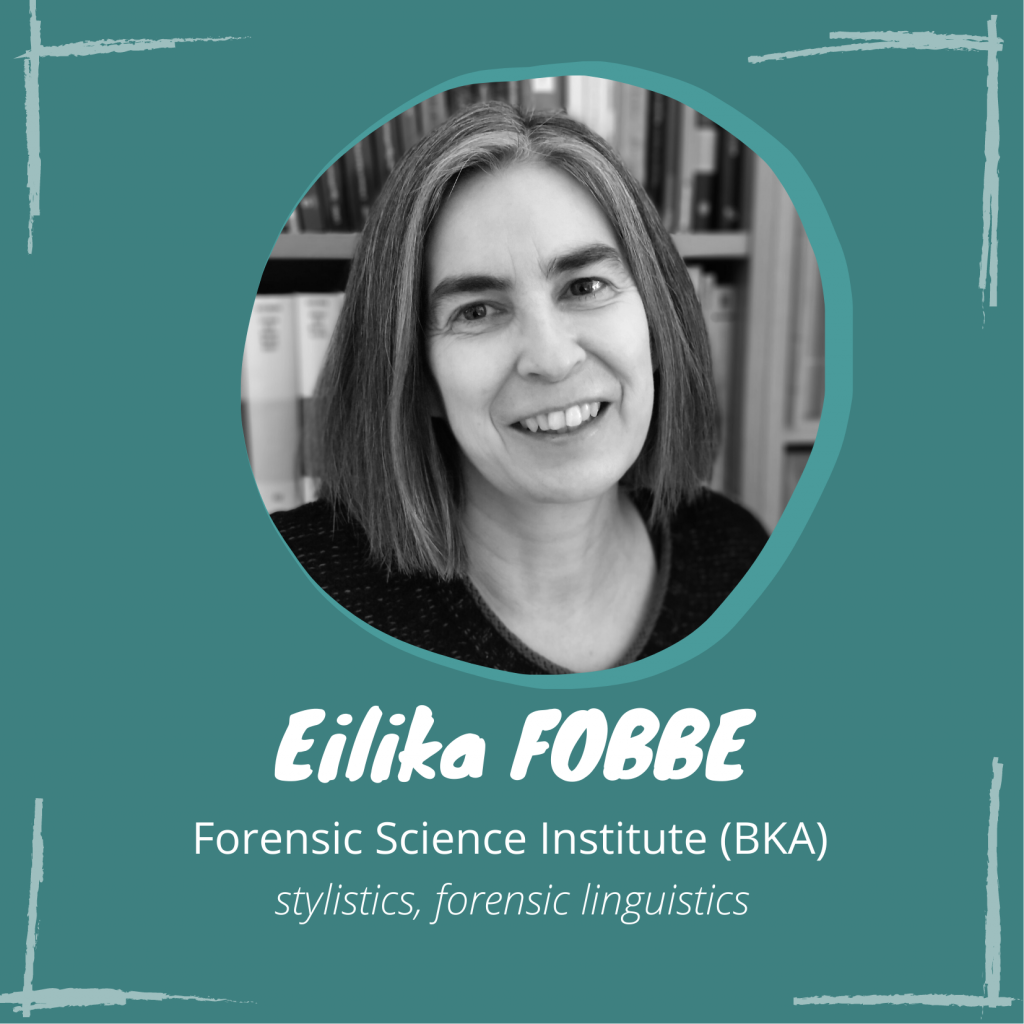 Abstract in English: Forensic linguistics is often described as applying linguistic knowledge to case-relevant linguistic problems. From the perspective of the judiciary and other forensic sciences, the exact definition is more complex, as embedding scientific expertise in a legal framework comes with its own functions and goals of linguistic analysis and defines the options for the expert's commitment.
The factors determining forensic linguistic casework include the legal system, the goals and the expectations of the police and the court. In addition, forensic linguists conduct their scientific investigations as experts, which means that their work is partly subject to stricter rules than free scientific research.
The value of a linguistic expert's contribution (e.g. by authorship analysis) to the police, lawyers or the court cannot be measured by the progress of knowledge in linguistics alone. At least as important is the linguist's awareness of the responsibilities connected with his/her role in a forensic context, the perception and presentation of applied linguistics as a forensic science, and how effective one can communicate linguistic findings to experts in other knowledge domains.
Résumé en français : La linguistique judiciaire est souvent décrite comme l'application de connaissances linguistiques à des problèmes linguistiques liés à des affaires. Du point de vue judiciaire et des autres sciences légales, la définition exacte est plus complexe, car l'intégration de l'expertise scientifique dans un cadre juridique s'accompagne de ses propres fonctions et objectifs d'analyse linguistique et définit les options pour l'engagement de l'expert.
Les facteurs qui déterminent le travail de l'expert en linguistique judiciaire comprennent le système juridiciaire, les objectifs et les attentes de la police et du tribunal. En outre, les linguistes judiciaires mènent leurs enquêtes scientifiques en tant qu'experts, ce qui signifie que leur travail est en partie soumis à des règles plus strictes que la recherche scientifique libre.
La valeur de la contribution d'un expert linguistique (par exemple l'attribution d'auteur) à la police, aux avocats ou au tribunal ne peut être mesurée par le seul progrès des connaissances en linguistique. Il est au moins aussi important que le linguiste soit conscient des responsabilités liées à son rôle dans un contexte judiciaire, de la perception et de la présentation de la linguistique appliquée en tant que science judiciaire, et de l'efficacité avec laquelle il peut communiquer les résultats linguistiques aux experts d'autres domaines de connaissances.
Resumen en español: La lingüística forense suele describirse como la aplicación de conocimientos lingüísticos a problemas lingüísticos relevantes para un caso. Desde la perspectiva de la judicatura y otras ciencias forenses, la definición exacta es más compleja, ya que la integración de los conocimientos científicos en un marco jurídico implica sus propias funciones y objetivos de análisis lingüístico y define las opciones de compromiso del experto.
Entre los factores que determinan el trabajo de la lingüística forense se encuentran el sistema jurídico, los objetivos y las expectativas de la policía y del tribunal. Además, los lingüistas forenses llevan a cabo sus investigaciones científicas como expertos, lo que significa que su trabajo está sujeto en parte a normas más estrictas que la investigación científica libre.
El valor de la contribución de un experto lingüístico (por ejemplo, mediante el análisis de la autoría) a la policía, los abogados o el tribunal no puede medirse únicamente por el progreso de los conocimientos en lingüística. Al menos igual de importante es que el lingüista sea consciente de las responsabilidades relacionadas con su papel en un contexto forense, la percepción y la presentación de la lingüística aplicada como ciencia forense, y la eficacia con la que se pueden comunicar los resultados lingüísticos a expertos de otros ámbitos del conocimiento.
Zusammenfassung auf Deutsch: Die forensische Linguistik wird oft als Anwendung linguistischer Kenntnisse auf fallrelevante sprachliche Probleme beschrieben. Aus Sicht der Justiz und anderer forensischer Wissenschaften ist die genaue Definition komplexer, da die Einbettung wissenschaftlicher Expertise in einen rechtlichen Rahmen eigene Funktionen und Ziele der linguistischen Analyse mit sich bringt und die Möglichkeiten des Engagements des Experten definiert.
Zu den Faktoren, die die forensisch-linguistische Fallarbeit bestimmen, gehören das Rechtssystem, als auch die Ziele und Erwartungen von Polizei und Gericht. Darüber hinaus führen forensische Linguisten ihre wissenschaftlichen Untersuchungen als Sachverständige durch, was bedeutet, dass ihre Arbeit teilweise strengeren Regeln unterliegt als die freie wissenschaftliche Forschung.
Der Wert des Beitrags eines linguistischen Sachverständigen (z. B. durch die Analyse der Urheberschaft) für Polizei, Anwälte oder Gericht lässt sich nicht allein am Erkenntnisfortschritt in der Linguistik messen. Mindestens ebenso wichtig ist es, dass der Linguist sich der Verantwortung bewusst ist, die mit seiner Rolle in einem forensischen Kontext verbunden ist, dass er die angewandte Linguistik als forensische Wissenschaft wahrnimmt und darstellt und dass er seine linguistischen Erkenntnisse den Fachleuten in anderen Wissensbereichen effektiv vermitteln kann.
References
Grant, Tim (2022). The Idea of Progress in Forensic Authorship Analysis, Cambridge University Press. https://doi.org/10.1017/9781108974714
Kniffka, Hannes (2007). Working in Language and Law. A German Perspective, Palgrave Macmillan.
Robertson, Bernard, G. A. Vignaux & Charles E. H. Berger (2016). Interpreting Evidence. Evaluating Forensic Science in the Courtroom, 2. ed., John Wiley & Sons. https://doi.org/10.1002/9781118492475
Shim, Abigail (2022). Forensic Linguistics: Science or Fiction? Hastings Law Journal 74(1), 207-234. https://repository.uchastings.edu/hastings_law_journal/vol74/iss1/7
Shuy, Roger (2006). Linguistics in the Courtroom. A Practical Guide, Oxford University Press.