« Pluriversality » after « diversity »:
An emergent language for civilizational transitions.
Professor of Anthropology Emeritus
University of North Carolina, Chapel Hill, USA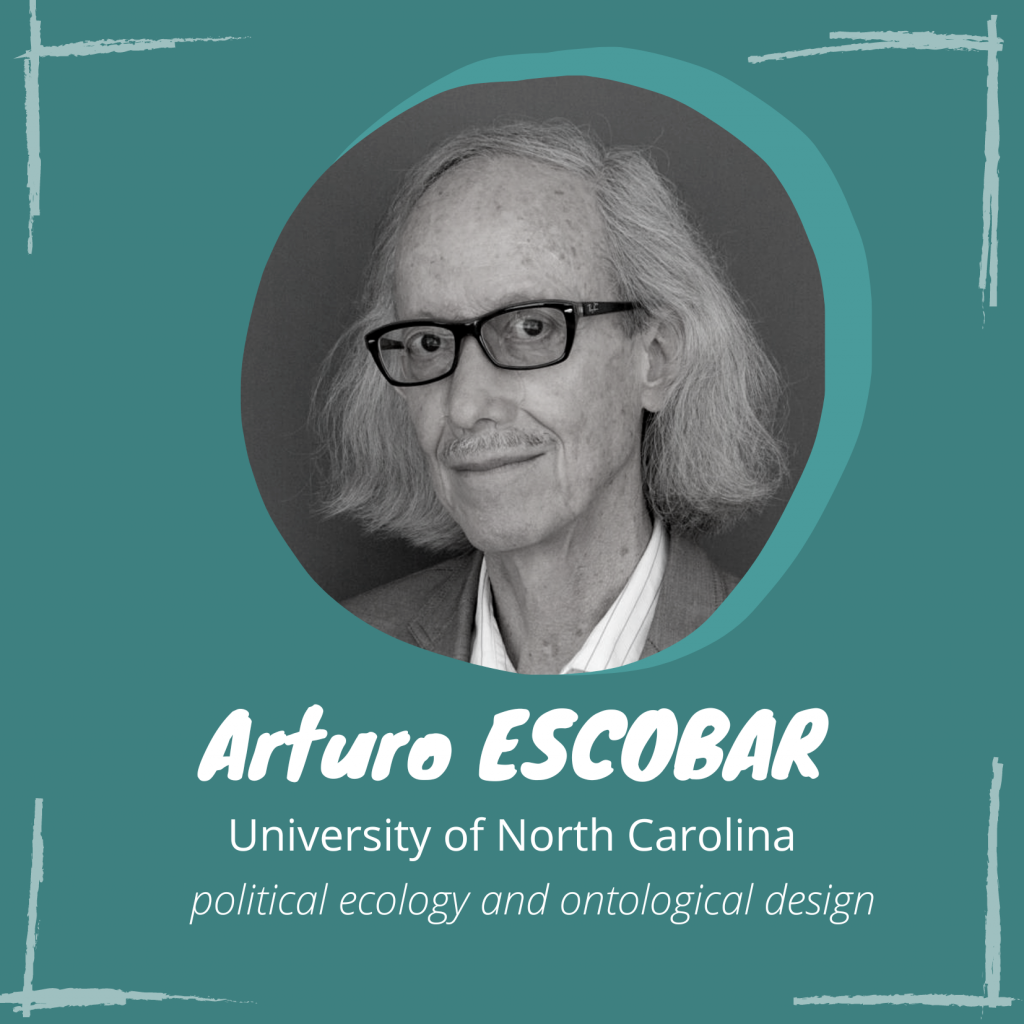 Abstract in English: This presentation builds bridges between languaging and world making. It argues that modern ontologies, because of their dualistic and anthropocentric character, reduce "diversity" to manifestations of a single, underlying external reality, or a One World World. The emergent notion of pluriversality interrupts the project of fitting "diverse worlds" into One. It follows that transitions beyond the current policrisis must be understood as transitions to a world where many worlds fit.
The concept of civilizational crisis and transitions is emerging in various parts of the world and domains of inquiry and action as a powerful convening trope. However, most transition conceptions and strategies remain within the confines of the modern episteme and continue to function within its modernist ontology of separation. By shifting the emphasis towards the ontological dimension of transitions, the presentation argues that radical relationality (or the profound interdependence of all entities and things) may constitute a foundation for transition frameworks with the potential to contribute to the civilizational journey towards a new ontology of the human, life, and the world. The presentation briefly discusses the emergent field of "transition design" from this perspective as a praxis for healing and reconstituting the web of life.
Résumé en français : Cette présentation construit des ponts entre le langage et la fabrication du monde. Elle soutient que les ontologies modernes, en raison de leur caractère dualiste et anthropocentrique, réduisent la « diversité » aux manifestations d'une réalité externe unique et sous-jacente, ou d'un Monde Unique. La notion émergente de pluriversalité interrompt le projet d'intégrer des « mondes divers » dans un seul. Il s'ensuit que les transitions au-delà de la crise politique actuelle doivent être comprises comme des transitions vers un monde dans lequel de nombreux mondes trouvent leur place.
Le concept de crise et de transitions civilisationnelles émerge dans diverses parties du monde et dans divers domaines d'enquête et d'action comme un puissant trope rassembleur. Cependant, la plupart des conceptions et des stratégies de transition restent dans les limites de l'épistémè moderne et continuent de fonctionner dans le cadre de son ontologie moderniste de séparation. En déplaçant l'accent vers la dimension ontologique des transitions, la présentation soutient que la relationnalité radicale (ou l'interdépendance profonde de toutes les entités et choses) peut constituer une base pour les cadres de transition avec le potentiel de contribuer au voyage civilisationnel vers une nouvelle ontologie de l'humain, de la vie et du monde. La présentation aborde brièvement le domaine émergent de la « conception de la transition » dans cette perspective comme une praxis pour la guérison et la reconstitution de la toile de la vie.
Resumen en español: Esta presentación crea puentes entre el lenguaje y la creación de mundos. Sostiene que las ontologías modernas, debido a su carácter dualista y antropocéntrico, reducen la « diversidad » a manifestaciones de una única realidad externa subyacente, o un Mundo Único. La noción emergente de pluriversalidad interrumpe el proyecto de encajar « mundos diversos » en uno solo. De ello se deduce que las transiciones, más allá de la policrisis actual, deben entenderse como transiciones hacia un mundo en el que quepan muchos mundos.
El concepto de crisis civilizatoria y transición está surgiendo en diversas partes del mundo y ámbitos de investigación y acción como un poderoso tropo convocador. Sin embargo, la mayoría de las concepciones y estrategias de transición parten de la episteme Moderna y siguen funcionando dentro de su ontología modernista de separación. Cambiando el énfasis hacia la dimensión ontológica de las transiciones, la presentación argumenta que la relacionalidad radical (o la profunda interdependencia de todas las entidades y cosas) puede constituir una base para los marcos de transición con el potencial de contribuir al viaje civilizatorio, hacia una nueva ontología de lo humano, la vida y el mundo. La ponencia analiza brevemente el campo emergente del « diseño de transición », desde esta perspectiva como praxis para sanar y reconstituir la red de la vida.
Zusammenfassung auf Deutsch: Dieser Vortrag schlägt eine Brücke zwischen Sprache und Weltgestaltung. Es wird argumentiert, dass moderne Ontologien aufgrund ihres dualistischen und anthropozentrischen Charakters « Vielfalt » auf Manifestationen einer einzigen, zugrunde liegenden äußeren Realität oder einer einzeigen Einen Welt reduzieren. Der aufkommende Begriff der Pluriversität unterbricht das Projekt, « verschiedene Welten » in eine einzige einzupassen. Daraus folgt, dass Übergänge jenseits der gegenwärtigen politischen Krise als Übergänge zu einer Welt verstanden werden müssen, in die viele Welten passen.
Das Konzept der zivilisatorischen Krise und der zivilisatorischen Übergänge entwickelt sich in verschiedenen Teilen der Welt und in verschiedenen Bereichen der Forschung und des Handelns zu einem mächtigen einladenden Tropus. Die meisten Übergangskonzepte und -strategien bleiben jedoch innerhalb der Grenzen der modernen Episteme und funktionieren weiterhin innerhalb ihrer modernistischen Ontologie der Trennung. Indem der Schwerpunkt auf die ontologische Dimension von Übergängen verlagert wird, argumentiert der Vortrag, dass radikale Relationalität (oder die tiefgreifende Interdependenz aller Entitäten und Dinge) eine Grundlage für Übergangskonzepte bilden kann, die das Potenzial haben, zur zivilisatorischen Reise hin zu einer neuen Ontologie des Menschen, des Lebens und der Welt beizutragen. Der Vortrag erörtert kurz das entstehende Feld des « Transition Design » aus dieser Perspektive als eine Praxis zur Heilung und Wiederherstellung des Netzes des Lebens.
References
2021. "Reframing civilization(s): from critique to transitions." Globalizations. DOI: 10.1080/14747731.2021.2002673
2022. "Global Higher Education in 2050: An Ontological Design Perspective." Critical Times 5 (1): 183–201. https://doi.org/10.1215/26410478-9536551
2020. Pluriversal Politics: The Real and the Possible. Durham: Duke University Press. For Preface and Introduction, see: https://www.dukeupress.edu/Assets/PubMaterials/978-1-4780-0846-0_601.pdf (Spanish edition 2018; French edition by Jimsaan, Senegal, in press; Turkish edition in preparation).
2018. Pluriverse: A Postdevelopment Dictionary. Delhi: Tulika and AuthorsUpFront Publishing (co-edited with Ashish Kothari, Ariel Salleh, Federico Demaria, and Alberto Acosta). (There are editions in Spanish, Italian, Portuguese, Hindi, Finnish, and French)
2018. Designs for the Pluriverse. Radical Interdependence, Autonomy, and the Making of Worlds. Durham: Duke University Press. For Preface and Introduction, see: https://www.dukeupress.edu/Assets/PubMaterials/978-0-8223-7105-2_601.pdf.
French edition: 2020. Autonomie et Design. La réalisation de la communalité. Paris: Editions Europhilosophie (French translation of Autonomía y diseño). https://books.openedition.org/europhilosophie/948?lang=fr