The researcher as listening subject
Professor of Linguistic Ethnography
University of Stirling, United Kingdom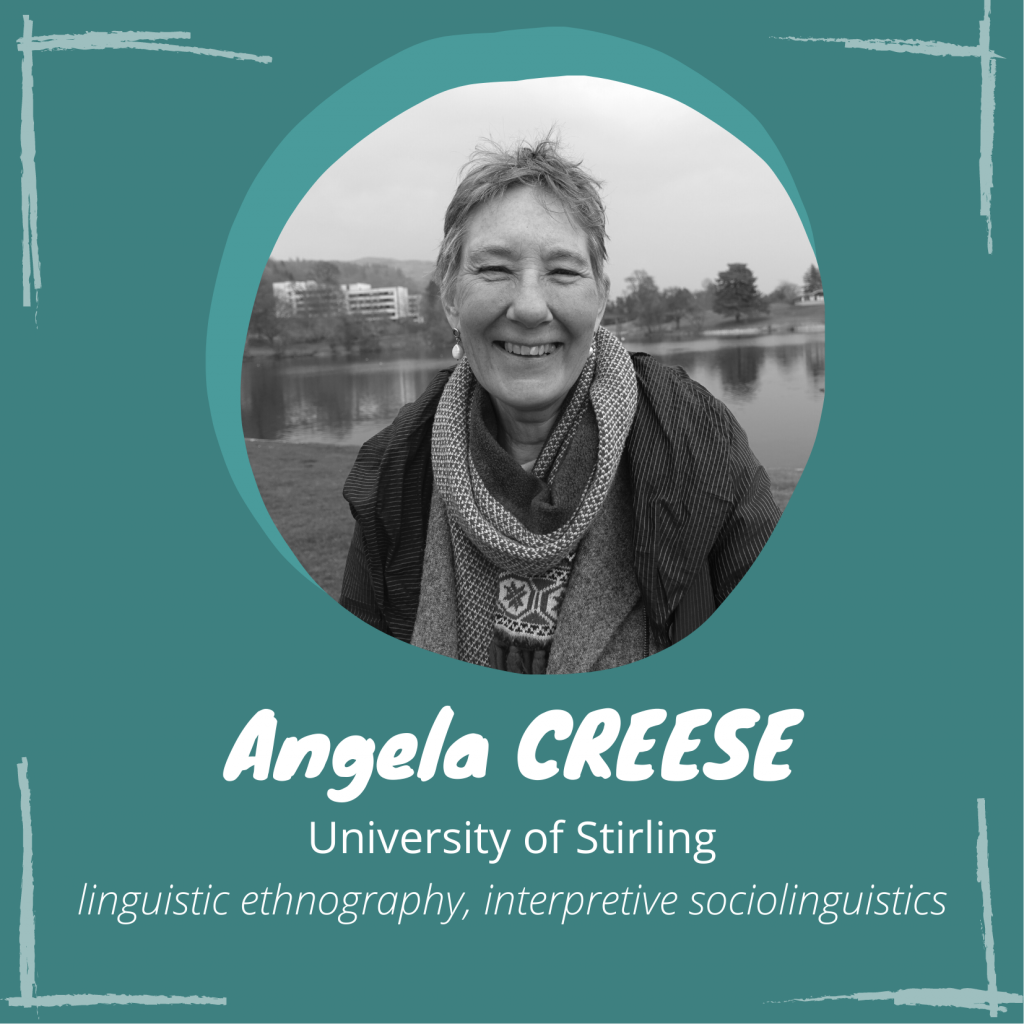 Abstract in English: In recent times there has been a movement towards expansive and engaging forms of representation of research in applied linguistics. Through ethnographic drama, poetry, stories, and film, applied linguists are venturing beyond the academic article to portray truth in ways which strive to bring together intellectual rigour and aesthetic sensibility.  Genres which push us to be self-conscious about what we are saying, and consider who we are including or omitting from the picture, appear to be on the increase.  
In this presentation I ask three questions pertinent to the conference theme:
What constitutes adequate representation in the portrayal of languaging in social life?
What do theorisations of subjectivity look like when the sensory rather than the discursive is the starting-point?
What responsibilities do researchers bear to those with whom they conduct research, particularly in relation to hegemonies of visibility/invisibility (Deumert, 2022)?
To address these three points, I explore a theoretical direction located in relational ethics. With reference to 'humanism of the other' (Levinas 2003), I ask what it is to honour the human subject in the interpretation and representation of interactional encounters. I consider examples of ethnographic drama, research vignettes, and film, to explore their affordances in the illumination of sensory and affective dimensions of social life. I argue that artistic representation of research in applied linguistics allows contingency and indeterminacy in analysis of human difference, and demands that the ethnographer takes up a position as a responsive and ethical listening subject.
Résumé en français : Récemment, on assiste à un mouvement vers des formes expansives et engageantes de représentation de la recherche en linguistique appliquée.. Par le biais du théâtre ethnographique, de la poésie, des histoires et des films, les linguistes appliqués s'aventurent au-delà de l'article académique pour dépeindre la vérité d'une manière qui s'efforce de réunir la rigueur intellectuelle et la sensibilité esthétique.  Les genres qui nous poussent à être conscients de ce que nous disons, et à considérer qui nous incluons ou omettons de l'image, semblent être en augmentation.  
Dans cette présentation, je pose trois questions pertinentes au thème de la conférence :
Qu'est-ce qui constitue une représentation adéquate dans la représentation du langage dans la vie sociale ?
A quoi ressemblent les théories de la subjectivité lorsque le point de départ est le sensoriel plutôt que le discursif ?
Quelles sont les responsabilités des chercheurs à l'égard de ceux avec qui ils mènent leurs recherches, notamment en ce qui concerne les hégémonies de visibilité/invisibilité (Deumert, 2022) ?
Pour aborder ces trois points, j'explore une direction théorique située dans l'éthique relationnelle. En référence à  » l'humanisme de l'autre  » (Levinas, 2003), je demande ce que c'est que d'honorer le sujet humain dans l'interprétation et la représentation des rencontres interactionnelles. J'examine des exemples de théâtre ethnographique, de vignettes de recherche et de films, afin d'explorer leurs possibilités d'éclairer les dimensions sensorielles et affectives de la vie sociale. Je soutiens que la représentation artistique de la recherche en linguistique appliquée permet la contingence et l'indétermination dans l'analyse de la différence humaine, et exige que l'ethnographe prenne une position de sujet écoutant, réactif et éthique.
Resumen en español: En los últimos tiempos se ha producido un movimiento hacia formas expansivas y atractivas de representación de la investigación en lingüística aplicada.. A través del teatro etnográfico, la poesía, los relatos y el cine, la lingüística aplicada se aventura más allá del artículo académico para retratar el funcionamiento de formas que tratan de aunar el rigor intelectual y la sensibilidad estética.  Estos géneros, que  nos conducen a ser conscientes de lo que decimos y a considerar a quién incluimos u omitimos de la imagen, parecen ir en aumento.  
En esta ponencia planteo tres preguntas relacionadas con el tema de la conferencia:
¿Qué constituye una representación adecuada en el retrato del lenguaje en la vida social?
¿Qué aspecto tienen las teorías de la subjetividad cuando se parte de lo sensorial en lugar de lo discursivo?
¿Qué responsabilidades tienen los investigadores para con aquellos con quienes investigan, especialmente en relación con las hegemonías de visibilidad/invisibilidad (Deumert, 2022)?
Para abordar estos tres puntos, exploro una dirección teórica situada en la ética relacional. Con referencia al « humanismo del otro » (Levinas 2003), me pregunto qué es honrar al sujeto humano en la interpretación y representación de los encuentros interaccionales. Considero ejemplos de teatro etnográfico, viñetas de investigación y películas, para explorar sus posibilidades en el esclarecimiento de las dimensiones sensoriales y afectivas de la vida social. Finalmente, argumento que la representación artística de la investigación en lingüística aplicada permite la contingencia y la indeterminación en el análisis de la diferencia humana, y exige que el etnógrafo adopte una posición como sujeto que escucha, receptivo y ético.
Zusammenfassung auf Deutsch: In jüngster Zeit gibt es eine Bewegung hin zu umfassenderen und ansprechenderen Formen der Darstellung der Forschung in der angewandten Linguistik.. Mit ethnografischen Dramen, Gedichten, Geschichten und Filmen wagen sich Angewandte Linguisten über den akademischen Artikel hinaus, um die Wahrheit auf eine Art und Weise darzustellen, die intellektuelle Strenge und ästhetische Sensibilität miteinander zu verbinden sucht.  Genres, die uns dazu zwingen, uns selbst bewusst zu machen, was wir sagen, und zu überlegen, wen wir in das Bild einbeziehen oder weglassen, scheinen im Kommen zu sein.  
In diesem Vortrag stelle ich drei Fragen, die für das Konferenzthema relevant sind:
Was ist eine adäquate Repräsentation bei der Darstellung des Sprechens im gesellschaftlichen Leben?
Wie sehen Theorien der Subjektivität aus, wenn der Ausgangspunkt das Sinnliche und nicht das Diskursive ist?
Welche Verantwortung tragen Forscher gegenüber denjenigen, mit denen sie forschen, insbesondere in Bezug auf Hegemonien der Sichtbarkeit/Unsichtbarkeit (Deumert, 2022)?
Um diese drei Punkte anzusprechen, untersuche ich eine theoretische Richtung, die in der Beziehungsethik angesiedelt ist. Unter Bezugnahme auf den « Humanismus des Anderen » (Levinas 2003) stelle ich die Frage, was es bedeutet, das menschliche Subjekt in der Interpretation und Darstellung von interaktiven Begegnungen zu ehren. Am Beispiel von ethnographischem Drama, Forschungsvignetten und Film untersuche ich die Möglichkeiten bei der Beleuchtung der sensorischen und affektiven Dimensionen des sozialen Lebens. Ich zeige dabei, dass die künstlerische Darstellung von Forschung in der Angewandten Linguistik Kontingenz und Unbestimmtheit in der Analyse menschlicher Unterschiede zulässt und vom Ethnographen verlangt, dass er eine Position als reaktionsfähiges und ethisch zuhörendes Subjekt einnimmt.
References
Deumert, A. (2022). The sound of absent-presence: Towards formulating a sociolingusitics of the spectre. Australian Review of Applied Linguistics, 45(2), 135-153. doi: https://doi.org/10.1075/aral.21039.deu
Levinas, E. (2003). Humanism of the Other. University of Illinois Press.
Blackledge, A. and Creese, A. (in press). Essays in Linguistic Ethnography. Ethics, Aesthetics, Encounters. Bristol, Multilingual Matters
Blackledge, A. and Creese, A. (2022). The potential of ethnographic drama in the representation, interpretation, and democratization of sociolinguistic research. Journal of Sociolinguistics, 1–18. https://doi.org/10.1111/josl.12546
Blackledge, A., and Creese, A. (2022). Ode to the City – An Ethnographic Drama. Bristol, Multilingual Matters
Blackledge, A., and Creese, A. (2021). Volleyball – An Ethnographic Drama: An Ethnographic Drama. Bristol, Multilingual Matters.
Blackledge, A., and Creese, A. (2020). Interpretations–an ethnographic drama. Bristol, Multilingual Matters.